Ready to step up and transform your practice over the next twelve months?
I'm Dan Stretton and I have been a bodyworker and trainer for the last 20 years.
For many years I have had a successful practice based on releasing physical and psychological trauma and chronic muscle tension. My secret is simple. I discovered that people were not just coming to me for the therapy that I trained in. People come because they know that I can make a difference.
How are you growing your practice right now?
Maybe some of these statements ring true for you...
"I'm working so hard with the day job and running my practice in the evenings and weekends. Then there's the holistic fairs to attend. I'm really worried about Burnout."
"There are so many therapists in my area and I'm fed up with the endless taster sessions! How am I ever going to stand out and build a loyal client base??"
"I'm so overwhelmed with all of the stiff necks and shoulders I have to fix. And it's such hard work, my neck and shoulders are tighter than my clients!"
Will you ever get the time or the energy to practice the therapy you love?
I had all of these problems too. But fast forward to today. After years of running a busy (upwards of 35 clients a week) full time practice I now work when I want to. I can send out a list of available dates and times to my clients and within days I'm booked solid.
As you're reading this, you're probably thinking, "Can I have a practice like that?"
If you're ready to do what it takes to build a reputation for creating change and making a difference to your clients, there's nothing can stop you.
Click on the slider to see what breakthroughs my students are having
"Excellent course and a pleasure to see you... Two very satisfied clients and another eager to join the local pain free club, just today! Couldn't have done it without you. Put that in your pipe and smoke it!"

Nic, Devon



"Not only can I take away a huge amount of info....but I can also take away a renewed appreciation of how immensely powerful bodywork tools can be.

This (course) has given me more insight into how I should be running my practice."

Past Student



"Shiatsu has moved on a notch for me Dan...and (I'm) loving it... e.g. farmer friend of mine - female, 50+, stoical, put up with lower back pain for months with 4am severe headaches. GP suggested Amitriptylline!
ONE, YES ONE ...treatment with me and voila - no further headaches or lower back pain. Bloody marvellous. It just seemed to fall into place, I could see the physical misalignments and knew what I wanted to achieve. It was a great feeling and the most competently conscious I have felt ...thanks to you Dan, you're an inspiration."

Deb, Colchester
"I've been treating someone at the drugs project where I work for the past three weeks. He's had a lot of falls (off buildings, cliffs) and broken bones over the years. He's … had a lot of physio. His feedback to me today was that the few sessions he's had with me have done more than years of physio to release his 'bad' hip etc. He's also much more aware of the tension he's carrying after doing the 'brick' exercise. "

Liz, London
So, What's The Solution ?
Announcing: The Essential Bodyworker's Toolkit DVD Workshop
My practice really took off when learnt I how to get to the root of a problem and relieve it without becoming exhausted. I want to show you the techniques I used to get these results!
What Is It?
Recently, I ran some very successful courses introducing and developing my most powerful techniques for creating change with my clients. You can see some feedback on the course and other courses this page.
Because places are very limited on my courses and the training is intense, I felt the need to create this DVD and Handbook so more people could share this powerful information and start to create the sort of practice they'd always dreamed of.
"I have learned a great deal from Dan. He has a way of imparting information that works. Explaining the whole process in a clear and concise manner that is easy to understand both practically and theoretically."
Clive, Maldon
"I cannot praise Dan's work more highly. He spotted immediately that my 'hip' problem was actually due to the way I walked rather than deterioration of the joint, as the doctor had suggested.
He has kept me mobile and without pain since. . . Even my husband (a total sceptic) was persuaded to go to him for a persistent shoulder problem that would not respond to treatment, and was cured in one session!"
Elaine C, Northampton
What Will I Learn?
You will learn the building blocks of my success. Years of study and practice have been distilled into this DVD and accompanying CD handbook.
It will be just like a class with me. Only you get to study at your own pace and go over the techniques as many times as you want.
PLUS with my CD Handbook
you have carefully designed study notes to lead you step by step through each technique and give you all the information that you will need to get you started.
The CD Handbook includes:
Diagrams
Photographs
Explanatory Notes
A Troubleshooting Section
PLUS a BONUS Chapter (more on that later..)
These techniques are simple, in fact, I often teach one of them to many first year students, just to let them see how simple such powerful work can be and what is actually possible in bodywork.
I will take you step by step through every single process so that you have all the expertise you need to start making a difference to your clients and your practice straight away!
Find out more about the techniques included in the DVD workshop...
Let me tell you about the techniques...
Click the tabs below to see what's included in the the DVD Workshop
Contact & Release of the Muscles
You will discover the simplest way to work with the physiology of muscle tissue to create painless muscle lengthening and release of tension. Stop struggling and save your thumbs. With this technique you can release years of pain and tension in MINUTES.
Once you know these simple steps you can apply this to the whole body, even the deepest skeletal muscle. You will have all the tools you need to release muscular tension without having to tire yourself or create excessive pain in your clients.
Contact & Release of the Abdomen
Many of your clients will harbour tension in the abdomen and toxicity in the organs. This module teaches you how to soften and manipulate the soft tissue and stimulating cleansing in many of the vital organs.
The vital blood supply, the deepest postural muscles and neural pathways that run through the body can also be accessed and treated using this method.
With this technique you can:
Clear deep emotional blockages
Detoxify by stimulating the organs' natural processes
Create deep changes, physically and emotionally
I'm all about making a difference. If you want to create change and stimulate a healing process, use this technique.
Contact & Release of the Fascia
Is it possible to travel even deeper into the body? YES !
Briefly, fascia is the magical substance that binds everything together in the body. It runs through every part of us.
What kind of effect do you think you can have on your client if you can access this remarkable substance?
You will learn the best technique for accessing this incredible substance. It requires great sensitivity and a special kind of touch.
PLUS- A SPECIAL BONUS CHAPTER
My bonus chapter on how to add an extra dimension to your bodywork with this subtle, ancient skill. When you can incorporate this into all of your techniques, your sessions will achieve a depth and power that will get clients recommending you to their friends and colleagues.
Once you learn these techniques, your bodywork will take on a new dimension that gets results you didn't think possible.
You're probably wondering, "Can these techniques really help?
If you aren't convinced about the power of the Essential Bodyworker's Toolkit, let me tell you a quick story about Sue: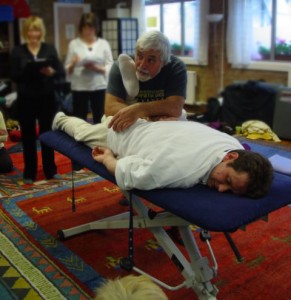 I first met Sue at a Health Fair. She sat down on my chair for a quick neck and shoulder treatment on her "impossibly" tight neck and shoulders.
Using just one of these techniques converted Sue into one of my best clients within the space of 3 minutes. In the years that I have known her, she has brought me dozens of new clients and at least £30,000 worth of referred business. I have personally used these techniques hundreds of times on clients in my clinics. Even after 20 years in practice I am often astonished by the results.
How much does this DVD Workshop cost?
I had to learn the hard way that not everything you learn in professional training, no matter how good, will to prepare you for what walks in to your clinic. I've explored many options and made mistakes so that you can avoid the pitfalls and dead-ends in growing your practice. So you see, this is much more than a DVD set.
How much could this course be worth to you?
More clients
More referrals
A growing reputation
The ability release tension and pain for your clients without exhausting yourself
Many students attend my courses from all over the globe but it costs to travel and stay away from home. PLUS because of the personal attention they receive, places on my course are very limited. Putting all that together, the costs can run into 4 figures. It is really important to me to share this knowledge and skills with more people than I could reach in person. So you can have access to this material and learn at your own pace for just £57.00. That's just a fraction of what a 2 Day Course with me would cost.
You have seen exactly what's on offer here and hopefully, I've demonstrated just how powerful these techniques. If you are serious about making a difference then you'll understand the real value of this DVD Workshop.
Have you ever heard the phrase "If you keep doing what you've always done, you'll keep getting what you've always gotten"? Well, if you want to make a change, it's time to try something new.
P.S. The button will take you to my adminstrator's PayPal account(Anne O'Connor). You DON'T need a Paypal account to pay via Paypal. Just click the blue button and The Essential Bodyworker's Toolkit will be on it's way to you.
Any problems or further questions, contact me: info@danstretton.com